---
Special Soaps
---
Let's try our useful soaps: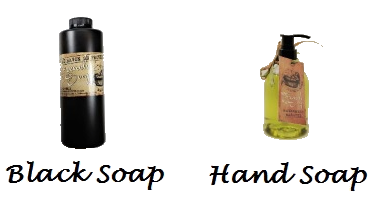 The Black soap in 32 oz (946 ml) : A natural efficient cleaner for all kind of floors.

The Olive oil hand soap in 8 oz (236 ml) pump bottles will specifically be used for dry skin with atopic tendency.
The 3 Super Soaps : (the citronella, the stain remover, the hand scrub)




The Citronella soap : A natural repellent against mosquitos to avoid insect bites.

The Stain Remover soap : A natural stain Remover for your clothes.

The Hand Scrub

The Small soaps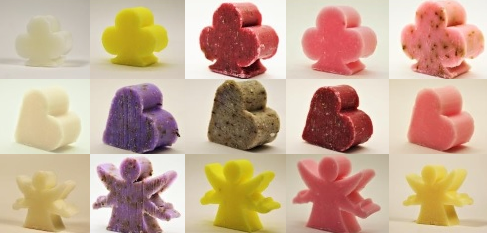 The Small soaps of 3 shapes: Angel-Clover-Heart in several scents

They are destined to be put in your armoires and dressers in order to diffuse the fragrances of the soap within your linen They will also be a natural repellent against moths.