---
Bar Soaps
---
Our Bar Soaps may or may not be colored and some contain crushed ingredients that stimulate a gentle exfoliation of the skin .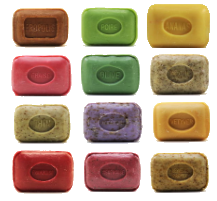 Our Bar Soaps are available in 0.22 lbs (100g).
Vegetable (white):
Lavender, honey, lime, tiara-Monoi, milk, honeysuckle, jasmine, mimosa, rose, magnolia, sweet almond, anise, grapefruit, cotton flower, lily of the valley, musk, argan , coconut, frangipani, Natural White.
Olive (green):
Lavender, verbena, olive, green-apple, vanilla, rosemary, pine, mint, vetiver, fig, Natural Green.
Natural Exfoliating action:
green clay, crushed lavender, wheat, cinnamon orange, apricot kernels, crushed mint, crushed verbena, rose petals, red wine, crushed thyme, seaweed, crushed lemon, green tea, propolis, donkey milk, aloe vera, shea butter.
Colored bar soaps:
lime, verbena lemon, lavender, rose, violet, vanilla, sandalwood, jasmine, honey, mimosa, chocolate, patchouli, poppy, orange, blood orange, orange blossom, passion fruit, raspberry, strawberry, olive, chestnut, amber, pineapple, pear, lemon, nobleman, glacial.
Our bar soaps are unique because of the quality of their ingredients.